Tuesday, April 25th, 2023, 2AM

Sanrio package unboxing! I made a big order recently, it was mostly gifts so I have to keep those a secret even though I really want to share what I got because everything is sooo cute!! I was worried because it shipped via UPS and they are the only company that has lost my package more than once (one was from a friend too...) but thankfully this time there were no issues.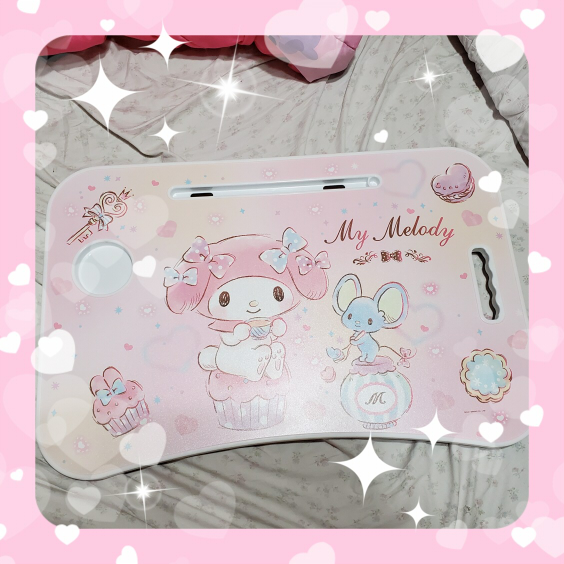 First item is a folding desk! It's supposed to be for a laptop, but I bought it so I can draw on my bed since I've accepted I will be staying in this house where there is very limited space. It's so cute and surprisingly sturdy! It's going to come in handy for sure.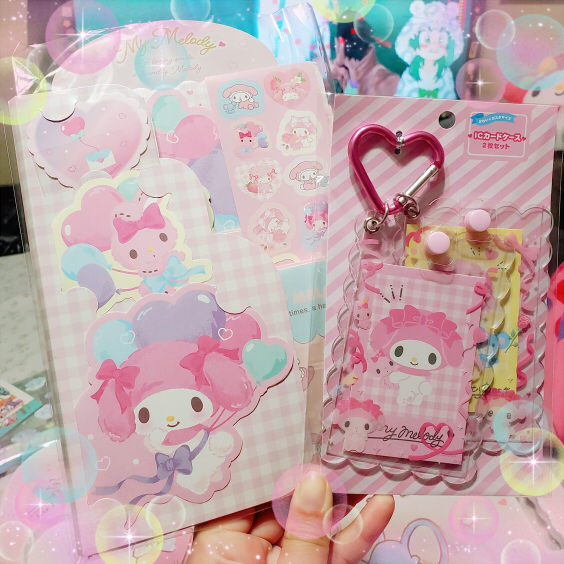 A My Melody letter set and photo holders! I love having cute stationary around for when I write to friends (I looooove sending/receiving handwritten mail!) or for packing with an order. I'm not sure what I'm going to use the photo holders for yet, but they were so cute I just got them because I know they'll be useful in the future. That reminds me, I actually got a set of Purin ones too! I still need to get around to my little project involving those. There's three, which is perfect!! One for Travis, Chris, and Integra, my top three. I want to print out a picture of them on some glossy photo paper and decorate it with stickers!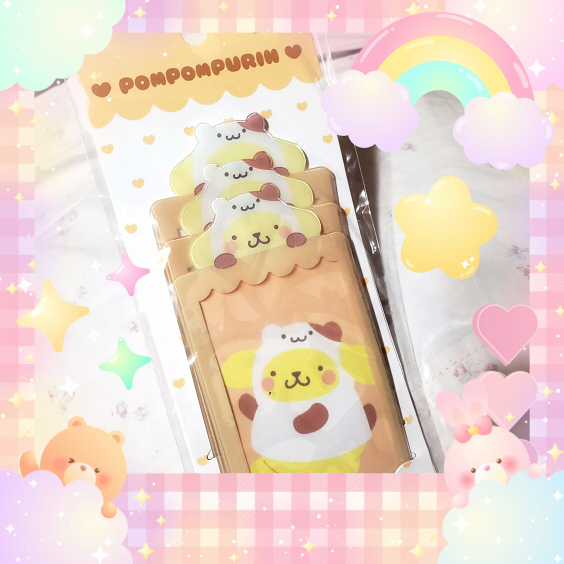 While I was filling up my cart, I did it half-heartedly, thinking maybe I wouldn't actually order because one of the birthdays is this week and I wasn't sure if I would make it in time. But then I saw that you get a free magnet, and the friend of the month was Purin! I just had to risk it. Everything ended up fine so I'm glad I did order after all. I love the freebies like this Sanrio gives you, I have such good memories of going to a physical Sanrio store when I was younger with the kind employees who let you pick out a new sticker or prize, and it was just as magical going to one of the many Tokyo stores on my trip a few years ago.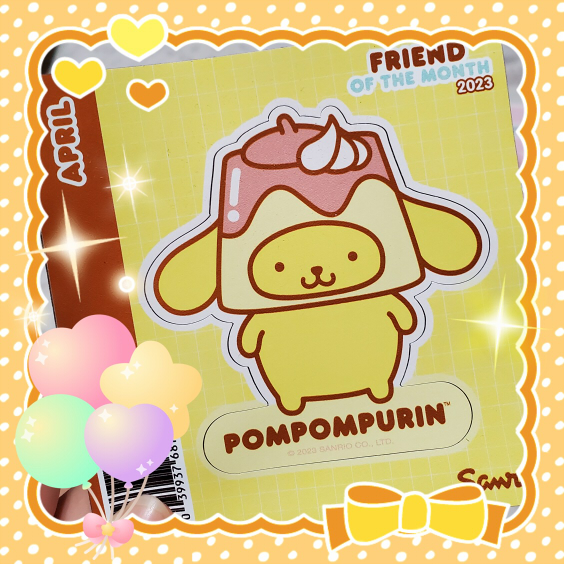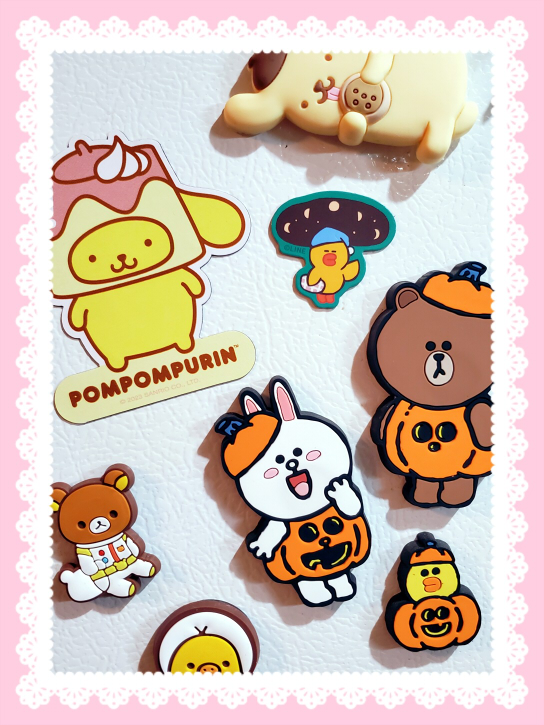 Some of my many fridge magnets! They are so fun to collect and an easy way to liven up your living space.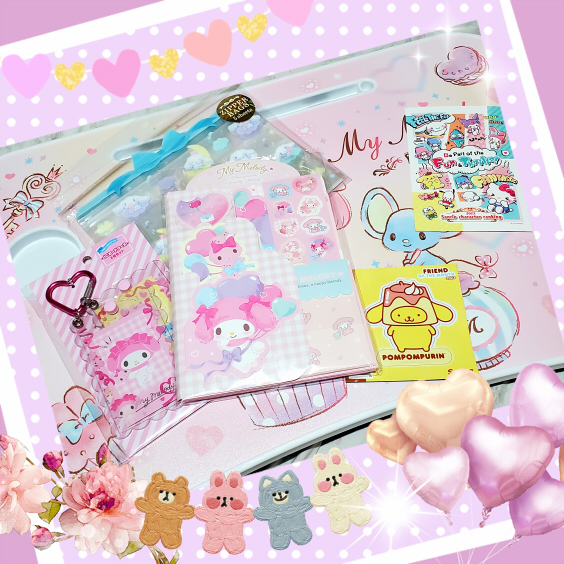 It's funny, Pompompurin is my favorite but I still have a lot of My Melody stuff because her merch is pink. I've had a lot of favorites over the years, Kitty of course was the first character I discovered and my favorite, then it was Cinnamoroll in high school, then My Melody for a time, and now Purin. But really, there are no Sanrio characters I dislike! They all have their unique charm.


Monday, April 24th, 2023, 2AM

Today (yesterday?) was such a rollercoaster. After work, I went to see family, though it wasn't for a happy occasion... Grief is such a heavy burden, and one you have to keep with you for the rest of your life. A permanent heartbreak. You never really get over it, but rather learn to live with your new reality. I thought of them, and about my grandma of course, as I always do. I thought about the angels we've buried together over the years and my penpal who lost her angel (I hope you are doing ok and I miss hearing from you!) and everyone else in my life who has experienced or is anticipating it.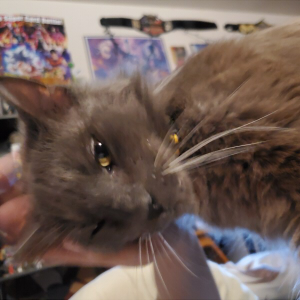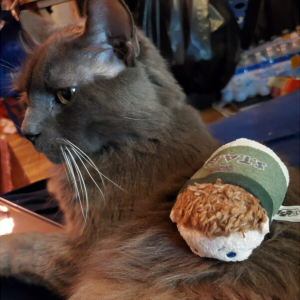 Some of my favorite pictures of Booger, who passed away earlier this year. I love the left one especially because his expression makes him look like a Louis Wain cat!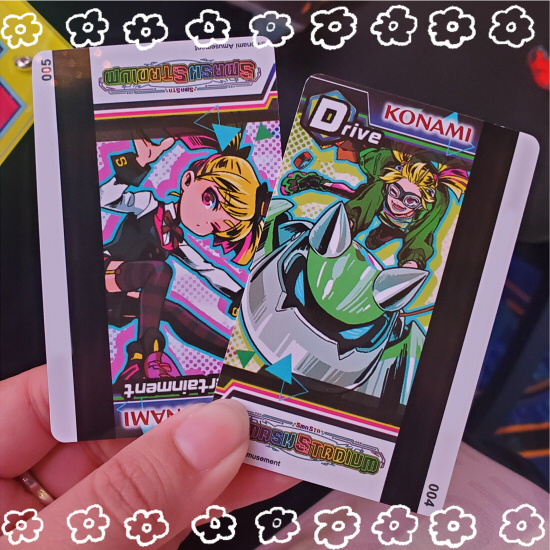 Surprise surprise, we ended up going to the arcade again before returning home... It's become our weekly date spot, and while I suppose you could say a waste of money, we always really enjoy our time together there and it was definitely appreciated today. They added some new mini crane machines, which I think I love more than the regular machines and we got a good haul! Two of them are gifts, and we were really not expecting to get Rilakkuma on the first try. He is sooo soft, and makes a great cuddle buddy! As soon as we settled in at home I knocked out for a bit with him in my arms.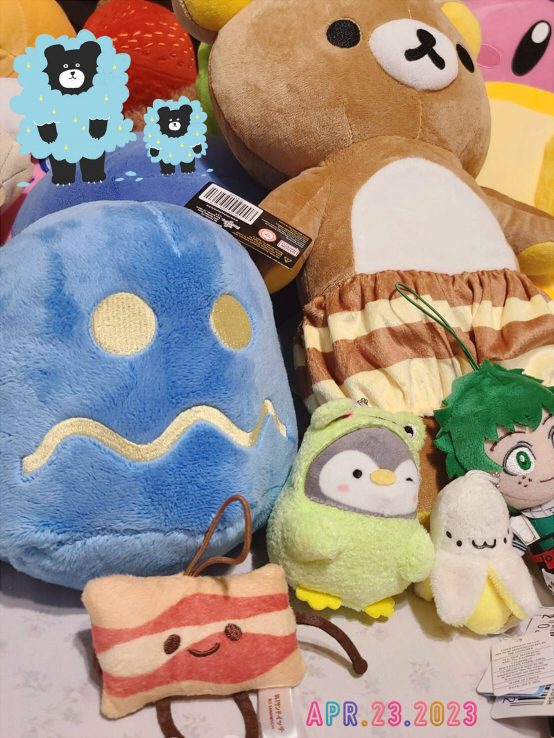 I have such a busy week ahead of me (and a busy month next month too, since I've been asked to work more to cover my co-worker's slack...). It's funny, these are actually things I should be looking forward to, but right now I just feel too exhausted to be excited. I'm sure I'll perk up once I'm actually in the middle of it all!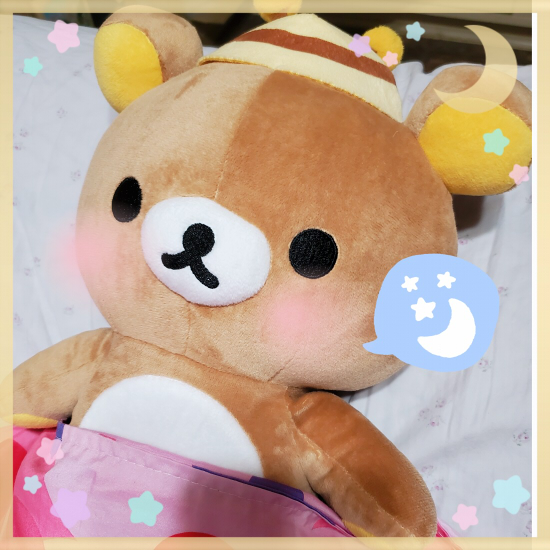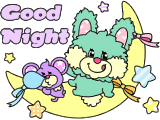 Friday, April 21st, 2023, 7AM

I was going to make this entry last night, but I was so tired. It started storming really hard, and I always sleep like a baby when there's a storm! I feel so refreshed now, the past week it's really been a struggle to get up for work. I don't really have much to say here, I mostly just wanted to share some art. I should really make a sketchbook page. Ah well, that's a project for another day.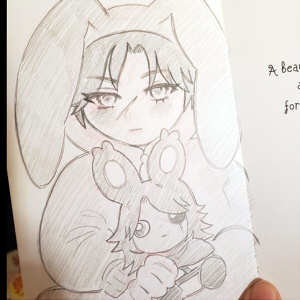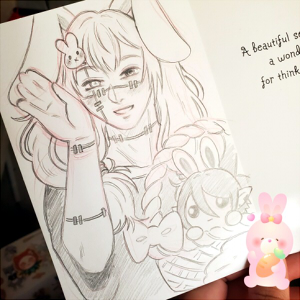 Easter cards for some friends! They loved them!

It feels like I haven't been drawing as much lately, but I did sketch a bunch at work the other day! It's always really noticeable when I haven't drawn for a while because stress starts to build up. After a good doodle session, it's like a weight has been lifted from my shoulders!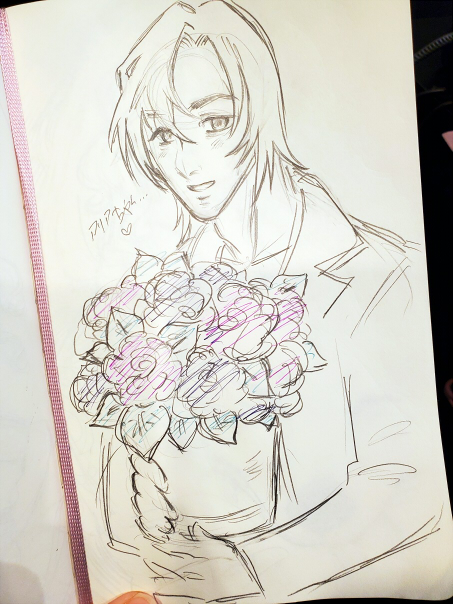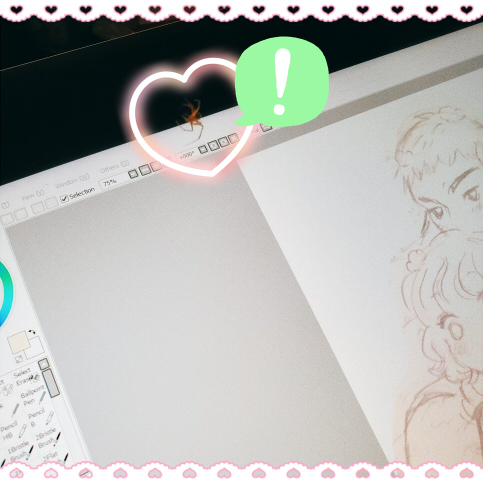 A spider suddenly dropped down and tried to weave a web while I was trying to work on some yume art! I thought it was a funny coincidence since I was about to draw Fang. I think she lives in my keyboard, she disappeared after I got after her for being rude. Spiders are always welcome in my household and room, just not on my workspace or my bed! What if I squish them on accident?

By the way, I know my yume page is a mess... I didn't realize the pictures I took were such low quality, so I'll re-take them under better lighting soon, but right now I have to get ready for work.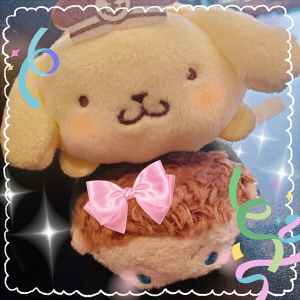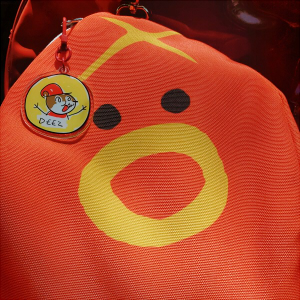 Tuesday, April 18th, 2023, 9PM

Things haven't been going so well, no shocker there... On top of everything else I've been dealing with, my grandfather broke his finger the other day, and he just recovered from a broken arm. He really can't catch a break! The events of these past couple of months have made me fully accept that he really does need looking after and I will not be able to achieve my dream of living by myself. It's bittersweet... I love my grandpa and I don't feel resentful over needing to stay with him but I still pine for sweet solitude at times. I know I am very blessed though, and I'm saving money this way so I don't want to be ungrateful. Onto the good things!

Today is my little sister's birthday! I can't believe how fast the years have flown by... I got her a dainty pearl earring and necklace set and a rose gift set from Lush. She loved everything! I feel incredibly grateful to have her, especially this year. She has become such a lovely young woman and I'm proud of her. May we have many more years together!





While we were out shopping, I bought myself a cute pink witch hat! It was an impulse buy admittedly, but how often do you see pink witch hats? I've always wanted to do a pink candy witch coordinate, maybe with Toy Parade? We'll see. We also went on an adventure to another mall to get Bear (what I will be referring my boyfriend as from this point on) some Mario shower gel because he really liked the cola scent. No Princess Peach stock was left, but that's to be expected they'd sell out first. Before retiring for the day, we shared an ice cream sandwich together. I forgot to take a picture before we devoured it like a dummy but I managed to find a stock photo of what exactly we got. It was so nice! I really needed to dress up and get out for a little while.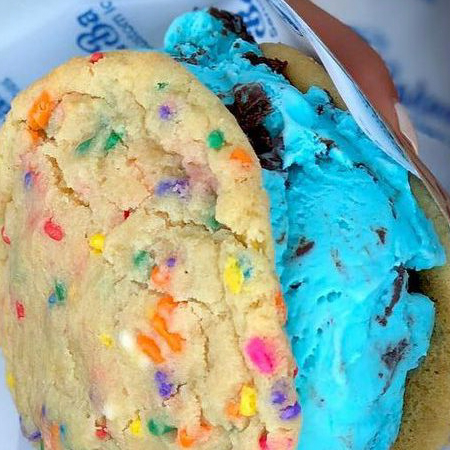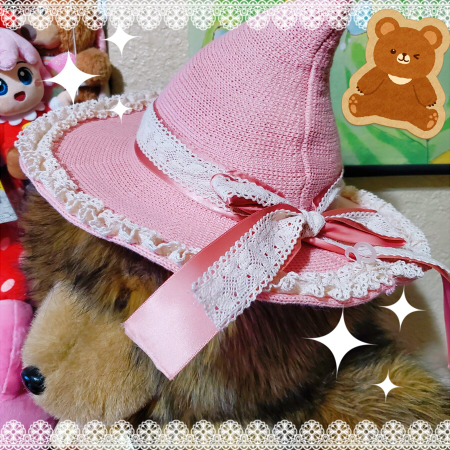 When I arrived home, I came back to a new charm!! It's of Vash by a mutual of mine~


Though I'm not madly in love with him like I was in 2020 (I need a man who is willing to kill for me!!), I still adore him and will always have a spot for him in my heart. I have mixed feelings about Stampede, but I was still happy to see a revival for the series.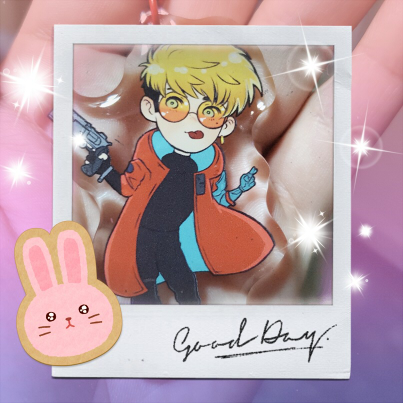 Sunday, April 16th, 2023, 1AM

April is continuing to be consistently difficult month for me every year. There is always something or someone who needs my help or attention at all times and being pulled in so many different directions is getting to be too much. If I could throw everything away to escape and become a mythical creature living a solitary life deep in a forest, I would. But I don't want to dwell on the bad things. I want to forget them, and practice gratitude. So let's do that!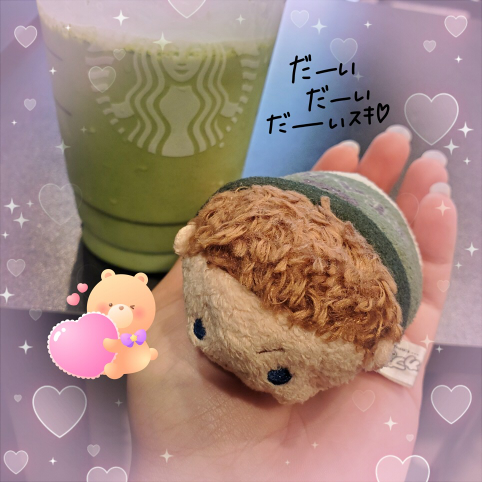 It was a tough week, but we made it through! My co-worker bought me a matcha latte as a thanks for filling in for her while she was ill. This was just one of the few good surprises I received this week, and it makes me wonder what I did to deserve to be surrounded by such lovely people in my life... Speaking of, I got a package from a friend!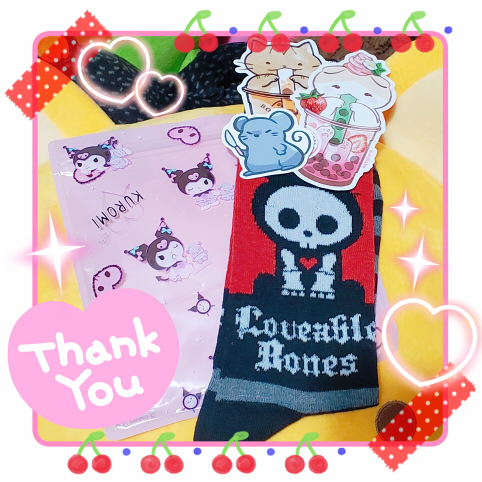 It was sooo sweet of her!! She remembered I wanted Skelanimals socks with the revival going on, the stickers are perfect for my hoard and not pictured is all of the candy I gobbled up already hahaha.
The card was addressed to "Mrs. Redfield"



On Friday, I got to see a friend I haven't heard from in two months (she took a break from social media, looks like we had the same idea!) for our monthly improv show meetup. It was a great show and just the laugh I needed! Afterwards we ended up going to an arcade. It's funny, when it opened up I didn't think it was anything special, but we've been there every weekend since it opened up! Besides the crane machines, I really love how many Japanese rhythm games they have. There's the classic DDR of course, I'm always happy to see it and play a round or two even though I do own my own pad and a bunch of the ps2 games at home, and I'm always happy to see a Project DIVA machine as well (Miku my queen...). I finally got to try DanceRush too! It's fun, but I still need to get the hang of the more difficult levels and I need to keep reminding myself that it's not DDR even if it's the same company. Embarrassingly enough, what I've really been into is...





It's called Tetote x Connect! V-tubers are really not my thing, at all (save for one), but Nene Momosuzu is soooo cute in this game!! I love having her as a partner and hitting those beats together, it's really fun. I even got a card to save my progress so I can build up my affinity with her! Even though we didn't win any prizes this time around, it was still a wonderful night, and for some reason a lime filled one? Maybe because it was late, but I kept stepping on discarded lime slices from people's drinks on accident, LOL! One more thing before I end this entry...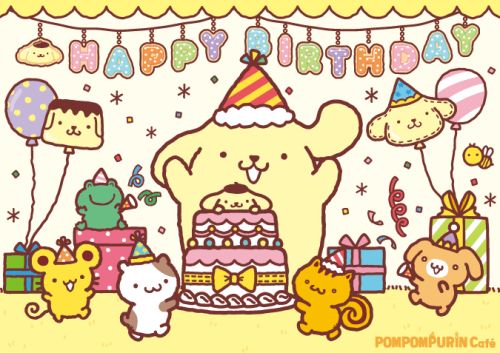 Happy birthday Pompompurin!! He is my favorite Sanrio character and my sunshine... I always feel healed when I look at his smiling face and how he's always with his best friend, Muffin. If you, kind reader are seeing this right now, could you please spare one of your daily votes in the Sanrio rankings? I remember a time when he was number one, but Cinnamoroll hasn't budged from his throne in years.



Monday, April 10th, 12AM

I hope you had a wonderful Sunday and Easter if you celebrated! I spent the day struggling to work on an art piece, then when I finished I realized the deadline for it had passed so it was pointless for me to finish it anyway... I'm having a lot of trouble with times and dates, especially lately. It's like I can never make it on time to anything and I feel like I'm drowning. No matter how much rest I get, it never feels like enough. I spend my days feeling immobilized, like there's a wall preventing me from doing whatever task I need to do. I'm even falling behind on my daily Splatoon wins. I am still not over not making my catalog last season by the way, I was only a couple of levels away and I really wanted that coat... I blame Nintendo's crappy servers that are constantly disconnecting players, otherwise I would have made it but I suppose it was my fault for cutting it so close.

After I wake up this morning I will immediately have to get to work packing orders and get to the post office, but I don't want to go to bed quite yet. I'm going to draw a little yume art, that always cheers me up when I'm down. Work has been especially draining lately, not the work itself but the fact that all of my co-workers are going through such a hard time right now. It's like every other day someone comes in crying or is having health issues, and it's painful to see them and not be able to do more than lend an ear. Maybe our new location is cursed, lol.

This new entry was sad, but I'm glad I got to let it out. If I finish this little doodle, I'll add it to my yume section! There's actually a lot of art I haven't posted there, but I either deem it too ugly or too embarrassing to post (flashbacks to when I drew Chris as a werewolf and no, I don't regret it).

Update @2AM: Well I didn't draw any yume art but I did draw a ref of myself for a commission. It's kind of weird having to make a clear reference of your persona. Sure, she's definitely way cuter than I am but I do dress like that. I know I draw myself too youthful and cute, but I will not stop!! I hope the commission comes out nicely! I trust this artist a lot. Commissioning yume art is only something I recently started doing because I am so shy about it. For my birthday this year, I'd like a commission of Travis holding a strawberry shortcake for me if possible, I get so giddy thinking about it!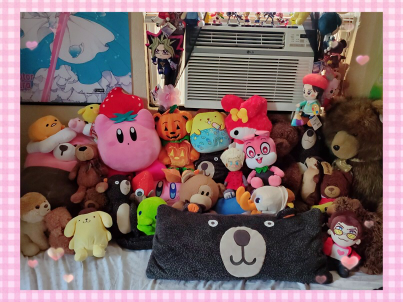 Goodnight from dreamland!


Friday, April 7th, 2023, 2PM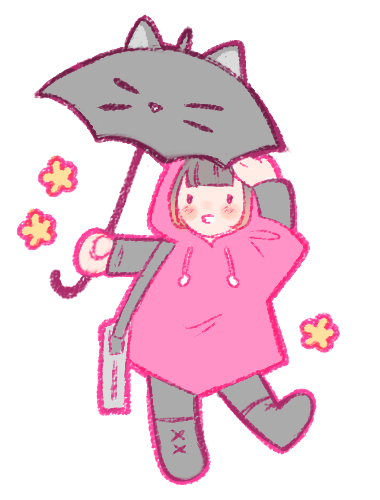 It's been so nice and cold these past couple of days!! I'm enjoying it to my fullest before it's 100 degrees every day for five months straight. Yesterday I got caught up in a thunderstorm on my way to work, so I wore the poncho I bought at the Gorillaz tour last year (the back has the cult logo on it) and also brought my cat ear umbrella! The sidewalks on my walk to the bus stop are terribly uneven, so it always gets flooded. It's like wading through a river! It does suck to have wet shoes and socks, but luckily we have a small fan at the back of the desk at work so by the time my shift was over, my shoes weren't soaked anymore.

It's definitely a luxury not everyone has, but I love the cold... I love the comforting, nostalgic feeling of shivering, and seeing your breath puff out. I love being able to wear something other than a t-shirt and shorts and bundling up and wearing scarves and fuzzy collars and boots and tights. I love the dreary grey skies and the chilling drizzle and the way the sun is temporarily blotted out. I love how the cold makes food taste so much better and the allure of a hot drink, and coming back home and warming up under the blankets after freezing all day. No lawnmowers, no screaming children playing outside, no dogs barking incessantly. It's so nice and peaceful and invigorating!




~ Hair Musings ~
I've been thinking about my hair lately and what I want to do with it, so I thought I'd talk about my (fairly uneventful) hair journey.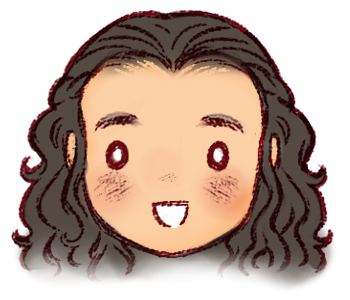 My mom used to do my hair, pretty nicely looking back on old pictures! But as I got older, I started hating my features... all of my favorite characters had completely opposite features from me... porcelain skin, straight, light colored hair, and bangs! Oh, how I wanted bangs! I briefly tried them when I was nine, but back then I didn't know what a straightener was so they were just a poofy mess and my mom often laughed at how goofy they looked. So they were grown out and I went back to misery during my pre-teen years, accepting defeat. But then, at 14, I was able to get bangs again! And actually straighten them! It did take a while to learn how to trim them, and many mistakes were made, but they made such a huge difference in my confidence.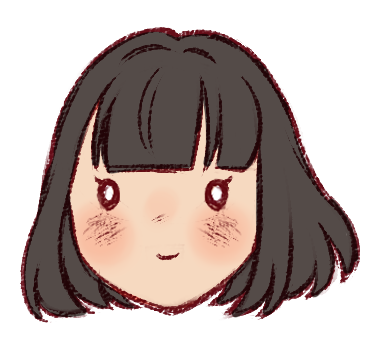 At 15, I cut my hair short for the first time in my life. It was freeing! Straightened and curled inwards at the ends is often how I would wear it to school, although it looked nice natural too (it looks like my Hound Wolf Squad OC). This became a cycle for me... I'd grow it out for a little while, and then chop it off again during the Summer because of how heat sensitive I am. During the pandemic, I didn't cut it and after 3 years it was starting to reach my thighs! It felt luxurious, but I hated the upkeep so it needed to be cut in half. That's when I decided to get it colored for the first time: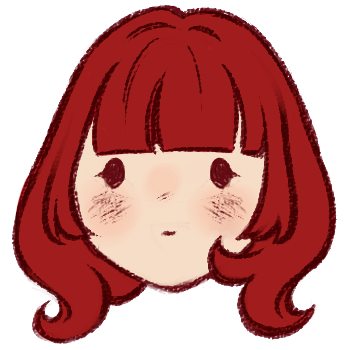 After a very pricy, lengthy prodecure (6 hours!), I thought I would never want to do this again, but I was happy with it. It lasted a lot longer than people warn red lasts, probably because I did try my best to maintain it. My roots started growing in, and eventually it faded into a wonderful deep pink color. Here I am nine months later and thinking of going back again! It's to my waist again and while it's the perfect length, I know I won't be able to handle it much longer as it warms up (it seems silly to me to have long hair if all I do is tie it up every day). I'm still thinking about what to do with it, but I'm going to cut it to shoulder length and either see if I can get it done Clover style or deep raspberry from the start so that it fades nicely into a lighter pink. I don't know yet! We'll see, but my hair is in desperate need of some touching up, and soon.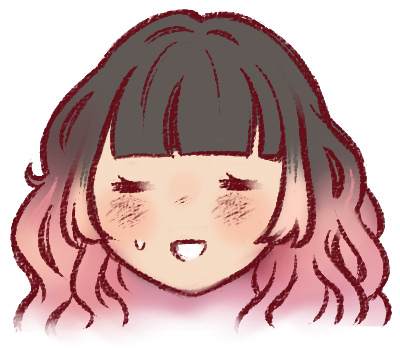 Wednesday, April 5th, 2023, 11AM

I thought about making a new entry but hesitated, thinking "I don't really have anything valuable to write" but then I realized that this is my space and I can fill it with as much junk as I want! Let's see, I had another uneventful two days, but I spent a lot of time chatting and watching stuff with friends. I think enjoying myself is more important than being productive, which is probably why I'll never make a living solely off my art, oops. Here's the movies we watched together, I had never seen them before: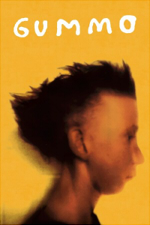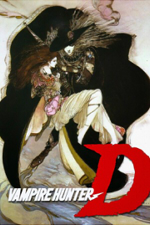 I don't recommend either of them. Vampire Hunter D was interesting and while I favor 80s anime, this one was just ok. Maybe the newer one is better? I'm interested in the manga. As for Gummo, I'm usually a big fan of weird experimental films, but it was very strange and uncomfortable, and not in a good way. Don't watch it if you love cats especially. The scene where the boy is bathing in dirty water while eating spaghetti gives me the ick. Still though, what matters to me when I spend time with friends is not what we watch, but that we spent time together! I love watching bad or silly or disturbing movies with them, always.

I thought about what I'd like my next page to be, and I really would love to have one showcasing my room/toy collection. It won't be for a while though since I'll need to figure out how I want the layout to look, and my coding skills are very limited. Instead, I'll talk a little about it here for now! So I pre-ordered two things in the past couple of days: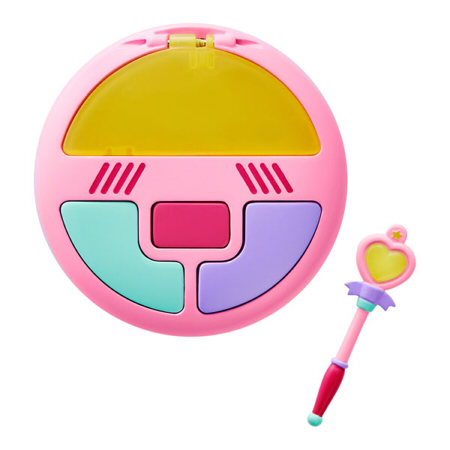 A Creamy Mami compact replica!! I'm sooo excited for this one, I've been wanting to get my hands on the Creamy Mami replicas for years but they are a little too pricy on the aftermarket for me. This one plays music and lights up! I can't wait!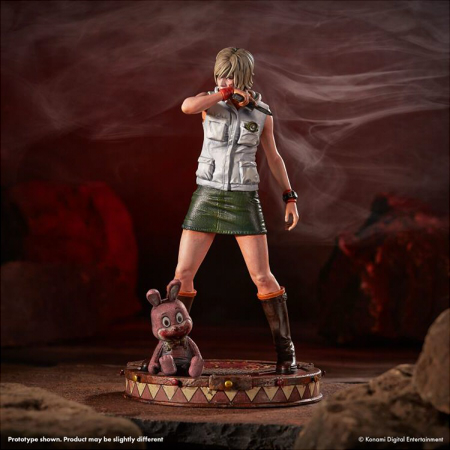 Two friends messaged me about her yesterday! It really warmed my heart that they thought of me when they saw her. The Gecco Heather statue has been a grail of mine for a long time now, at the time of her release I was completely broke and couldn't afford to pre-order her and her price just kept climbing and climbing on the aftermarket... I've seen her go for as high as 90k yen now! I still prefer the look of the Gecco statue to this one, but I'm not complaining, plus this one comes with a cute little Robbie! I wish we could see more of her face though. My favorite part of the Gecco statue was her face, it was just perfect: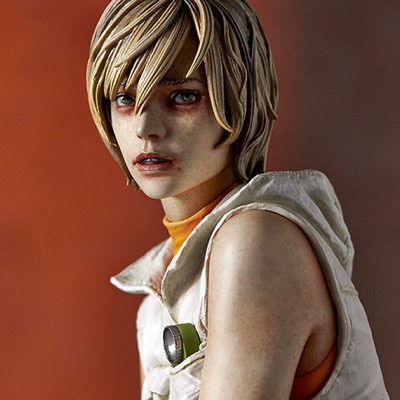 I hope she gets a re-release one day! Oh and speaking of re-releases, here is another figure I pre-ordered previously thanks to him getting one!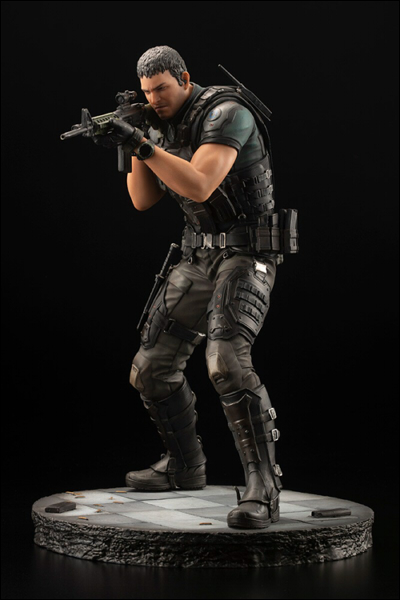 He's sooooo handsome!!! I've watched the dumb Vendetta movie an embarrassing number of times.

A few months ago I had the opportunity to purchase him, but I decided not to because his going price was twice as much as retail... my patience paid off! I was seriously not expecting him to be re-released at all, but I'm happy! He does have a notable difference to the original, the original has a blood stained stand: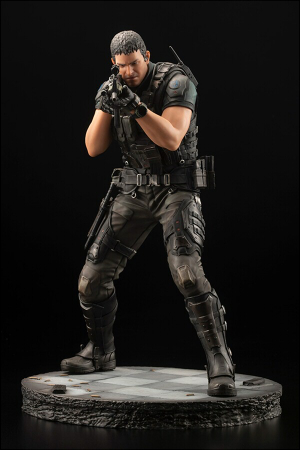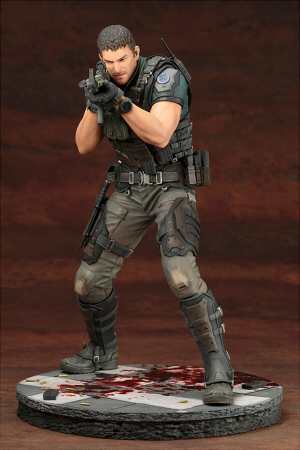 I don't really mind though, I always am stacking other figures on bases anyway if they're flat. I want to surround him with cute things! Cute things are healing for the soul, and he definitely needs some healing... Anyway, that's it for now! Ahh there's so much I need to do this month, my head is spinning when I think about it... But I'll manage, somehow. One thing at a time, right?


Monday, April 3rd, 2023, 8AM

April 1st was Sakura Kinomoto's birthday, and probably the only good thing about that day (and your birthday too, if you happen to be reading this and your birthday falls on April Fool's Day).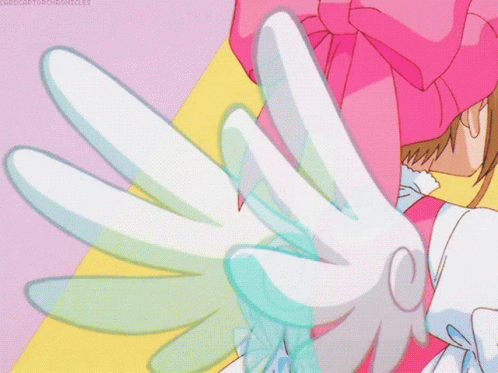 I first got into the series when I was in elementary school, the show was introduced to the US as Cardcaptors. I thought Sakura was so cool and admirable! I decided to learn how to skate because of her, to this day I still prefer inline skates to quad skates. The US dub wasn't fantastic, but it exposed me to the series and later on when it stopped airing, I was able to get my hands on a DVD that had the original Japanese audio. This was before I had access to broadband internet, so I watched it a lot!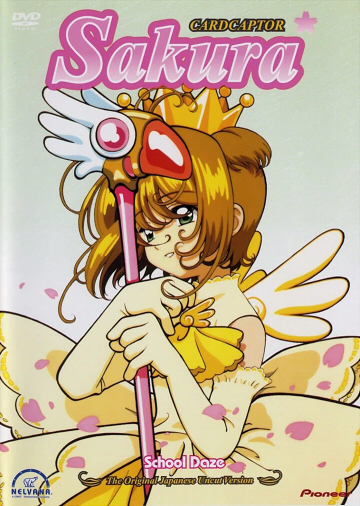 This outfit and the opening theme Tobira wo Akete are my favorites! I think it's such an underrated opening song and the singer, ANZA also played Usagi in the earlier Sailor Moon Musicals.

What I love most about Sakura is her cheerfulness, even in the face of adversity and how kind and open-minded she is. I wanted to be like her, magic powers aside. Something I struggle with as an adult is keeping the whimsy in my heart alive... it's very easy to fall into despair and cynicism, especially in the working world. Whenever my misanthropic tendencies start to pop up, she acts as a beacon and a reminder that zettai daijoubu.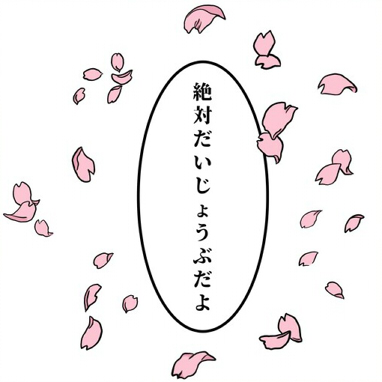 Sakura's famous phrase, which translates to "everything will surely be alright" often brings me to tears when I think about it. Curse my sentimentality!

That new drawing of her is still unfortunately a work in progress, but that's ok! I still got to celebrate in a way, after dinner we went to an arcade and won him: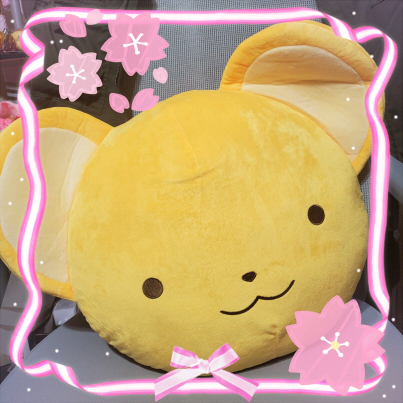 Happy Birthday Sakura! Oh and if you are a fan or interested in the series, I highly recommend checking out Danppun's Cardcaptor Sakura shrine!





I feel like I had more to say, but now that it's morning, it all leaked out of my head, haha. We discovered this hidden away Vietnamese restaurant and it was delicious! We got donuts next door to them afterwards.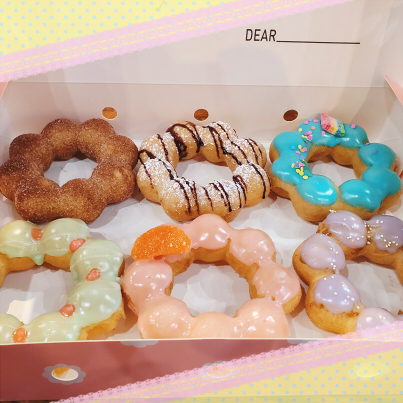 The flavors are from left to right, top to bottom: churro, funnel cake, apple, banana pudding, orange cream, and maple. They were delicious! The apple was my favorite, though kind of a weird color choice?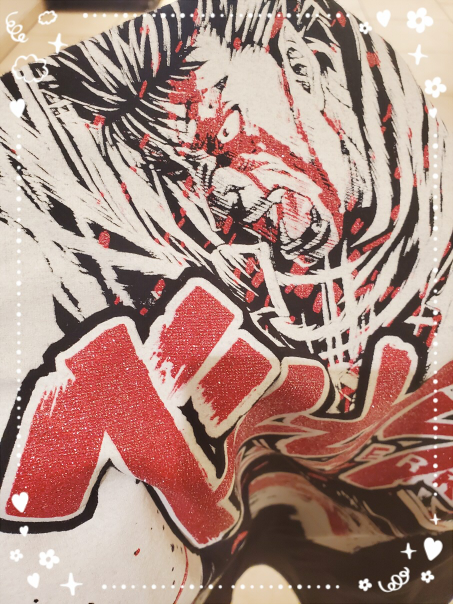 New shirt! It's hard to photograph, but the red parts are glittery!! I love it! I try my hardest to not add to my t-shirt hoard but sometimes there's one I have to have. I couldn't fully fall in love with Guts since his heart belongs to Casca, but I still love the series and want to see Guts happy.